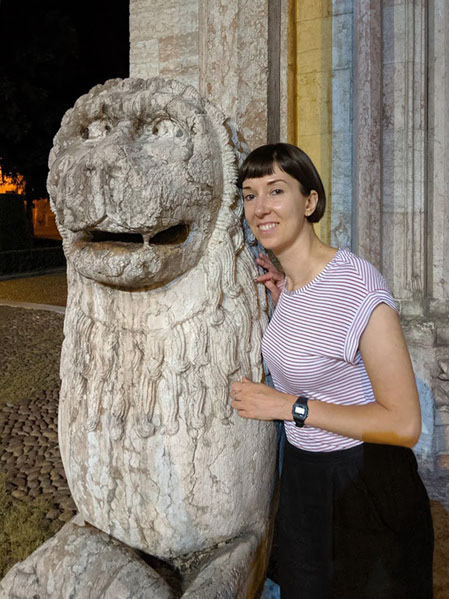 ​​​​​​​
Irena Zablotska is a London-based visual artist and illustrator. She considers the drawing process as a coping mechanism to deal with distressing events that happened years ago. In terms of the context, her subject matter is driven by childhood memories and interpersonal relationships, which are shaped by Eastern European folklore, myths and fairytales she would hear as a kid.
Being born and raised in Western Ukraine, Irena used to be involved in a local graffiti scene in the late 00' which shaped her distinct art style. She takes her inspiration from Eastern European folk art, mixing it with strong emotions, anguish and intimate fears. Combining humans, animals and symbols she creates a very personal and unique form of communication.
 
Being a self-taught graphic designer and illustrator Irena enrolled in a visual art course at University Arts of London, where she graduated from the MA Illustration degree at Camberwell College of Art. During her studies, Irena moved away from digital media concentrating mostly on watercolour and coloured pencil. She considers the latter her favourite, finding the process meditative and liberating which immerses her subconscious in the vibrancy of children's environment. 
 

Education
MA with Distinction in Illustration from Camberwell College of Arts / UAL (UK), June 2020


Work experience 
Self-employed Visual Artist and Illustrator (UK), 2015 - Present
Visual Artist, Illustrator at Keepa Studio (Ukraine)  2009 - 2018
Self-employed Visual Artist and Illustrator (Ukraine), 2007 - 2009
Selected Group Exhibitions
Kaleidoscope, Art Hub Studios, London, UK, 2019
Seul Illustration Fair '1+( )-Global Network', South Korea, 2016
BikeArt Exhibition,  Thessaloniki, Greece, 2016
Project '50', Lviv, Ukraine, 2013
Go Font Yourself, Peer Gallery, Sydney-Melbourne-Brisbane, Australia;
Park'n'Rock, different locations, France, 2009
Faces & Laces, Arsenal, Moscow, Russia, 2008
Anything Could Happen... Carmichael Gallery, Los Angeles, USA, 2008
Artraut Festival,  Lviv, Ukraine, 2007
Art Loft 2007, Biscuit Company Lofts, Los Angeles, USA, 2007
Selected Publications
Manco, T. (2016) Make your mark : the new urban artists. London: Thames & Hudson Ltd.
Ecker, D. (2010) Torso : T-shirt graphics exposed. Berlin: Die Gestalten Verlag.
Carson, N. ed., (n.d.). Designer Challenge. Computer Arts Projects, (133), p.101.
Yaiza Nicolás, Alessandro Zanchetta, Andrés González Fernández, Bagott, H. and Firm, H. (2009) The sourcebook of contemporary illustration. New York: Collins Design.
Carney, R. ed., (n.d.). Output. Computer Arts, (157), pp.12–13.